(Lots of resources and links in this post highlighted in the title–just click on it!)
We purchased a home from 1972. As you can imagine, the plumbing, electricity, and anything you can think of are outdated when it comes to repair.  We purchased the home in 2006, when my youngest was two years old.  She is now 11 years old. So that's over 9 years in our home of charm and surprises. What this old house is teaching us has many life applications.  I'll let you find them in the story:
1. You can't fix everything all at once. You have to learn to live with one thing, while working on an issue of priority. Other issues will have to wait.
2. Be content. You may have to turn off the main for the water after each shower, but until we can find the plumbing part needed (because Lowe's and Home Depot do not carry it), the money, and the time, keep it rolling and be content with the blessings that abound. Stressed about it? No worries. Keep it rolling.  This too shall pass.
3. Listen to your heart. Service people will come and go with their advice and opinions, but what do you want?  We had one quote that included remodeling to be more modern.  We hear things like, "Oh! That's interesting!" He had a lot to say about our "out dated" stuff.  Modern is not our thing.  Don't get me wrong, I like a fancy, modern dishwasher, cabinet, or appliances, but my home is colonial style and, well, I quite fancy myself a pilgrim!  I'm okay with what I have, just fix the leak in the shower.
3. Your home is your castle and you are the king and queen–embrace the beauty of what God has given you. After applying for a home equity loan, we began to add even the smallest of things on the list of "to do" because we were overwhelmed.  We were dreaming of condos, apartments, and #tentliving. We even considered selling.  After a "discussion" between king and queen, we began to take control of our castle, our stuff (Well, God's stuff given to us to take care of).  No thank you for the 9,000 quote to remodel the entire kitchen counter tops for a simple leak in a 1972 fiesta bowl with an antiquated faucet. Granite counters will have to wait.  We spent hours researching the 1972 fiesta bowl (which by the way the name of such items is wayyyyyyyyyyyyyy under the sink, and you need a flashlight to find it) and stumbled upon a website that was into renovations of old homes. (click the link  for more!) We read the Q and A and found a situation just like ours.  In the answer was a shop in California that had our old faucet!  We called them, had a lovely conversation, and we are currently awaiting our old, but new faucet to install and KEEP our beautiful fiesta sink!
Our sink is a lovely earthy brown!  I'm sorry we missed out on the cool green color! Loving my 70s.
We were on the phone with Samantha Lou in California sending her pictures back and forth until the order was complete! Friendly, incredible, and full of positive energy that reminded us that vintage is awesome!  Who needs modern?!
I also recommend Richmond Plumbing Specialties for plumbing parts for older homes. (click on link embedded in the title)
No one had this part for the older model Kohler shower:
They did, and they were very helpful! My husband came home, and after 30 minutes, fixed the shower for only 25.00 dollars. The queen was making Po' Boy Fried Oyster Sandwiches, and the King was fixing the shower.  Which leads me to my last point:
In marriage, we NEED each other.  We often divide and conquer in our relationships, but there are some times that encouragement, a skill set, an organizational task, and a "we can do this!" have to take place, even if it's through a "discussion".  : )  Discuss, change, motivate, and move on!  Make it work and enjoy the journey. I'm a highly driven person with a creative mind, and I don't mind pretending that I know what a faucet valve is and making a call.  I knew our faucet was out there somewhere awaiting to be adopted!  My husband needed that.  My husband is skilled with his hands. Our home and budget needs that.
We even talked about a previous Bible study and post we wrote on this blog about needing each other. (https://arrestedbygrace.wordpress.com/2013/12/31/youll-never-view-marriage-the-same-way-again/)  I encourage you to read with your spouse and re-focus.  I needed the reminder.
I've discovered a new love for plumbing.  I'm amazed at how all the parts go together. Each part has it's purpose, and each part is needed to produce the service required.
This is what I'm dreaming of and is soon to show up on my front door.
These are all the parts that will make my kitchen faucet functional.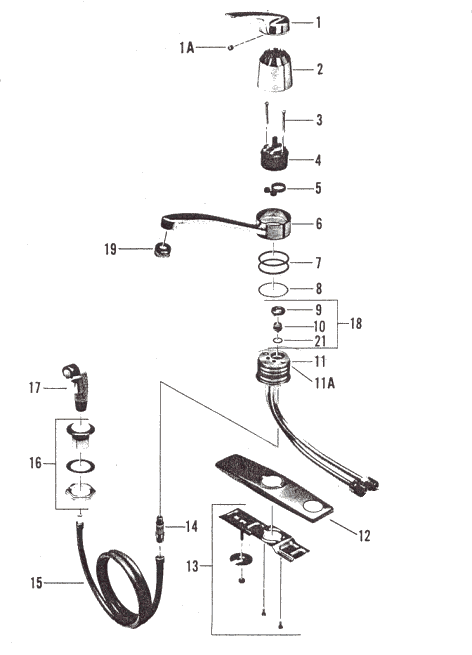 Every washer, hose, and lever is needed.  Truthfully, it reminds me of how we all function together at church, home, and our jobs to create something beautiful and useful!
More posts to come as we spend the next few years fixing up "our old house".
Update 9/5/2015
Our new kitchen faucet came in!  We ended up getting the plumber who is doing work on our bathroom to also install the kitchen faucet and fix the leak.  All is well!