I love the verses in Romans 5 that reminds us of our source of strength during sufferings and what sufferings produce
…..because we know that suffering produces perseverance; perseverance, character; and character, hope. And hope does not put us to shame, because God's love has been poured out into our hearts through the Holy Spirit, who has been given to us.
As we all listen to the news about Ferguson, this story brought to light this verse.  Hope does not put us to shame.  Why? Because GOD's LOVE has been poured out into our hearts through the Holy Spirit.
All the rioting and behaviors of those wanting change has brought "shame".  This woman shines like a beacon of hope–the essence of how to REALLY change a community.
A single mom of two children, she worked hard and saved her money to open a bakery.  This bakery represented her hard work, her dream, and the talent that God has given her.  After her shop was vandalized by protesters wanting change, she was determined to work a midst the rubble, stay open, and serve on Thanksgiving Day.
Despite the mess, however, Dubose says she will continue to bake. She can't afford to give up now, having invested all she had into a business that was funded through bake sales at flea markets.

"I am a single mom, a mother of two," she said. "This is everything that I own. I can't walk away from it. I just got to start-up and start baking again."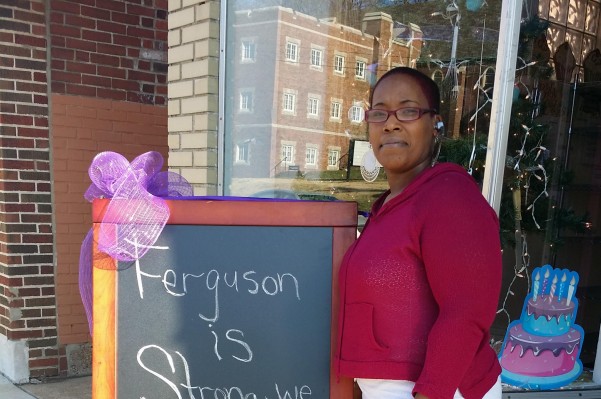 We can all think about situations and circumstances that brought us setbacks and sufferings, but the real test is how will you use that?  Will you claim the love and power of the Holy Spirit?  Our true Hope in sufferings comes only from this amazing love and power of Jesus.  I pray that those who choose to overcome by hurting others will wake up and follow this woman's example.  She has deeply moved me this Thanksgiving morning.  I praise God for strong women who are willing to overcome by working hard and living their dream, and protesting by creating something beautiful.
I plan to order one of her cakes to say thank you and be a part of her hope!
If you would like to visit her FaceBook:  Natalie's Cakes and More
100 S Florissant Rd
Ferguson, MO 63135
(314) 398-3951